CMS/CRM/E-Commerce Software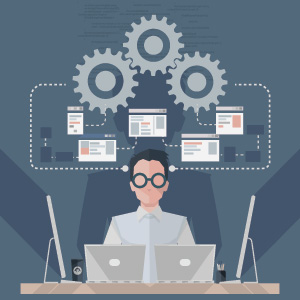 The Gomez Innovations Success Platform is a complete, all-in-one solution for online content management, client and constituent management, and e-commerce transactions such as donations, memberships, and online sales. The platform combines all of the essential tools for you to do business or non-profit work online. We usually combine our platform with creative services to customize the look and feel, but the platform is available without those services. We also offer customizations and application development on the platform, making our offering one of the most feature-rich, most versitile platforms in the world.
Platform Features
Account Management
We created an app just for managing your account information, billing, users, and services. Simple and easy management - that was the goal.

Blog Management
Create and manage unlimited blogs, blog articles, and visitor comments from one interface. Content rotation and social sharing built-in.

CMS Hosting Management
Easy access to the geek stuff - hosting information, template HTML and CSS, web stats, color settings, website defaults, and more.

Community Management
Start and maintain your own social network with groups, conversations, and interaction. This is built right into your website with us.

Content Management
Powerful controls for web page content, site structure and navigation, and external widgets. WYSIWYG editing, so not need for HTML skills.

Domain Name Management
Register and manage your domain names and DNS entries through one simple tool. Automatic renewal of your domains so you never lose them.

E-Commerce Management
Complete online store and invoicing system with support for multiple stores, discount codes, unlimited inventory, and so much more!

E-mail Management
Access to e-mail forwarding, POP/SMTP accounts, mailing lists, and domain aliases. POP/SMTP users also get webmail for access from anywhere.

Event Management
Complete event scheduling and registration with built-in volunteer management, support for paid/free registrations, and web-based event check-in!

Learning Management
Our complete e-learning environment for running online schools and courses. Unlimited courses with unlimited units and online exams!

Media Management
File uploads and online storage with flexible storage options, media feeds and podcasting, live streaming, fading billboards, and photo albums.

Ministry Management
Manage the way your organization helps people. Benevolence management and tracking, prayer requests, resource exchanges, branded Bibles, and more.

Organizational Management
Manage your organization data - committees, boards, staff members, and locations - for use in other apps and future collaboration apps.

Relationship Management
Our powerful CRM. Control all of your people data within one app. Search, export, and group. Send mass e-mail, text, and even voice messages!

Resource Management
Manage the listing of resources available to the public through your website, such as recommended links and other types of helpful resources.
Get Access Now!
We offer the our success platform under several different brands and distributors. Below is a list of links to different versions for different industries.