Fashion Show Consulting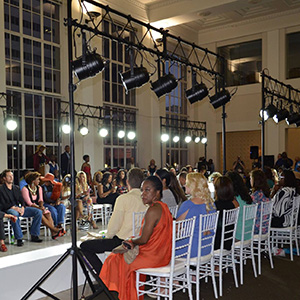 We absolutely love everything about fashion! Gomez Innovations has been involved in the growing Tampa Bay fashion scene for over 10 years. Our team represents several decades of industry experience, including modeling, cast, producing, lighting, and promoting our own shows. In addition, we have worked with clients and organizations to bring our expertise to the table and fill in the logistic gaps that we fill so well.
We've served clients and organizations such as The Children's Dream Fund (Rays on the Runway), Wine, Women and Shoes Tampa, Tampa Bay Fashion Week, St. Pete Art and Fashion Week, Christian Fashion Week, EYE On Fashion (The Fashion Movement), Embrace Annual Plus Size Fashion Show, Alamwar, Noka Posh, and many others.
Fashion Show Consulting Services
Event Planning and Preparation
From concept to execution, we have created a methodology for creating and running fashion shows. Whether your show is for charity or profit, our team can help you to work out all of the many details of your fashion show.

Model Casting
The caliber of models at your fashion show can make the difference between an amateur-look presentation and a high fashion experience. With our extensive network of model contacts, we can help you book the perfect talent for your runway show.

Designer Casting
Designer garments are the stars of the show. Using our growing international database of fashion designers, we can easily find the right design for your show. From couture to prêt-à-porter, we've got you covered.

Front & Backstage Management
The day of your showis always hectic and stressful. We run a tight ship when it comes to fashion shows - from the backstage management of models, stylists, makeup artists, and designers to the front-of-house security, seating, and ticketing, our experienced team will make it look like you have done it a million times.

Model Fittings
Before your show, you have to be sure the garments will look great on your models. We can handle the logistics and scheduling of model fittings and team up with our network of stylists to ensure that everything is runway-ready by the day of the show.

Runway Lighting
After the show, only your photos remain. Runway lighting is crucial to having a great experience and to ensure public engagement after the show. We own our own rig of 30 LED pure white lights with trussing that is perfect for almost any show. If you need more firepower, we work with our our experienced production partners to scale up to lighting entire arenas.

Event Advertising, Promotion, and Public Relations
The idea of a runway show is to showcase fashion to a room full of fans, donors, and buyers. Our marketing team has experience in producing international and local buzz around fashion shows. Our shows have been featured in local outlets as well as large scale new sources such as the Associated Press, BuzzFeed, annd PerezHilton.Com.
Promote Your Tampa Bay Show for FREE!
Are you running a fashion show in the Tampa Bay area? Advertise to our growing database of THOUSANDS of Florida fashion fans for FREE by visiting http://www.tampabayfashionshows.com.
Contact Us Today
For a free consultation to find out how we can serve you, call us today at (813) 441-9814 x 105. You can also contact Mayra Gomez by visiting http://www.mayragomez.com.